Engineered cable route management system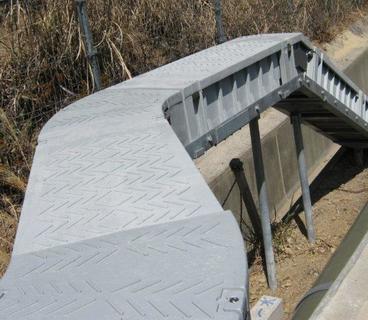 deMaher is proud to be the exclusive Australian and New Zealand distributer of TufDuct  which is an alternative to concrete cable toughing systems.
TufDuct is an engineered, innovative, environmentally friendly and state-of-the art solution to cable route management, manufactured in Japan.
TufDuct is made from a polymer derived from 100% post-consumer plastic waste, and will officially be launched in Australian and New Zealand in February 2019.
Pre-launch orders are available – please contact us and we will be happy to assist you.
See additional images of TufDuct Installations click here.
Flame-retardant duct with self-extinguishing within 1 second
Halogen Free
When direct flame applied – plastic/polymer does not drip
Non-conductive
Anti-static
Suitable for high voltage cables (tested to 100 kV in normal operation and 217 kV in fault)
Secure lids tested in winds to 60m/s (116 Knots).
Non-Slip surface
Male and female moulded ends
No joint grouting required
TufDuct can interface with existing GLT and GST
Shortens construction time
Reduced transport and on site handling costs
Various options for installation
Concrete is heavy to carry and install, and is not a sustainable product.
TufDuct is easy-to-assemble and does not require heavy machinery or lifting tools.
Light enough for a one-man lift and compliant with manual handling requirements
TufDuct is well suited to areas where access is difficult or weight bearing is an issue.
Good impact resistance
Load bearing - Withstand 4.9kN/500 mm (about 500kg)
Weather tested to 50 years in accelerated UV test.
Chemical resistance
Interlocking pieces: Each trough has a male and a female end, together with Lockable lids.
3 different methods of lid fixing types are available to suit your security and access requirements.
Japan – Known as Green Trough
Rail

Japan Railways group
Tokyo Metro
Hankyu Railways

Utilities

Tokyo Electric Power
Kansai Electric Power
Fukushima nuclear power

United Kingdom(UK) – Known as Trough-Tec Systems

Rail

Various Network Rail installations

Utilities

Various Water treatment plants

Thailand - Known as Green Trough

Rail

Bangkok Mass Transit System

Philippines - Known as Green Trough

Utilities

Bacman geothermal generation plant
Network Rail UK – Certificate of Acceptance (Known as TTS - Trough Tec Systems)
Japanese Eco Mark Certificate
Danish Rail Approval (Banedanmark)
Manufactuers ISO 9001 certification